Professor Vladimir I. Feldman, Head of Laboratory, PhD, D.Sc.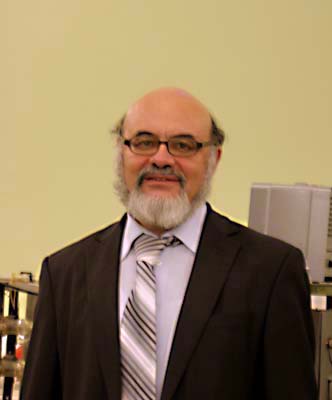 Tel/fax:
+7-495-9394870 (int. 48-70)

E-mail:
feldman@rad.chem.msu.ru
feldman@rc.chem.msu.ru

Education:
Graduated from Department of Chemistry, Moscow State University (M.Sc. equivalent, 1979, with honour).

Other duties:
Member of editorial boards of the journals:
"Radiation Physics and Chemistry"
"High Energy Chemistry"
"Bulletin of Moscow University, Chemistry"



Scientific career summary:
| | |
| --- | --- |
| PhD training, Department of Chemistry Moscow State University | 1979 — 1982 |
| Junior Research Scientist, Karpov Institute of Physical Chemistry (KIPC) | 1983 — 1986 |
| Research Scientist, KIPC | 1986 — 1988 |
| Senior Research Scientist, KIPC | 1988 — 1994 |
| Leading Research Scientist (group leader), KIPC | 1994 — 1995 |
| Head of Laboratory, KIPC | 1995 — 2006 |
| Head of Laboratory, Institute of Synthetic Polymeric Materials of RAS | 1997 — 2008 |
| Head of Laboratory, Department of Chemistry, Moscow State University | 2001 — present |
Degrees awarded:
Ph.D. (Department of Chemistry, Moscow State University, 1984)
Doctor of Sciences (Karpov Institute of Physical Chemistry, 1994)

Teaching activity:
Department of Chemistry, Moscow State University, series of consecutive lecture courses (2001 — present):
"Basics principles and experimental methods of radiation chemistry"
"Radiation chemistry of molecular systems"
"Radiation chemistry of polymers"
"Applied aspects of radiation chemistry"

Department of Physics, Moscow State University,
short lecture course "Principles of radiation chemistry" (2006 — 2012)

Moscow Physical-Technical Institute (Technical University),
lecture course "Modern techniques for physico-chemical treatment of polymers" (1999 — 2000)

Department of Chemistry, Moscow State University,
short lecture course "Basics of EPR spectroscopy for chemists" (2003 — present)

Supervision of M.Sc. theses (totally 8) and Ph.D. theses (totally 10)

Current major scientific interests:
Basic radiation chemistry in condensed phases

Matrix isolation studies on spectroscopy and dynamics of the radiation-induced intermediates

Mechanism of formation, structure and properties of novel noble-gas compounds

Radiation chemistry of micro- and nanoheterogeneeous polymeric systems

Leadership in completed projects:


Russian Foundation for Basic Research (RFBR) projects: 93-03-4684; 96-03-32949; 00-03-32041; 03-03-32717; 06-03-33104; 09-03-00848 (2009-2011); 12-03-01009 (2012-2014); 11-03-91374 (2011-2013, joint project with Prof. O. Güven, Hacettepe University, Ankara, Turkey)
INTAS and joint INTAS-RFBR projects: IR-95-0008; IR-97-1262; INTAS 2000-0093; INTAS 05-10000008-8017 (team leader)
Russian project in the frame of IAEA Coordinated Research Programme "Stability and stabilization of polymers under irradiation" (1995 - 1997)
Projects of programmmes of basic research of the Division of Chemistry and Material Sciences of RAS (2003 - 2005)
Collaboration research project of Academy of Finland and RAS (2003 - 2005, Russian principal co-investigator)



Involvement in current research projects:

Publications and presentations:
Totally, more than 160 papers in peer-review scietific journals, several reviews and book chapters; more than 50 plenary lectures and invited talks at international conferences. Full list is available by link

Selected recent publications (2007 - 2020):
Shiryaeva, E.S., Baranova, I.A., Kiselev, G.O., Morozov, V.N., Belousov, A.V., Sherstiuk, A.A., Kolyvanova, M.A., Krivoshapkin, P.V., Feldman, V.I.. Hafnium oxide as a nanoradiosensitizer under x-ray irradiation of aqueous organic systems: A model study using the spin-trapping technique and monte carlo simulations, J. Phys. Chem. C, 2020, 123 (45), 27375. DOI: 10.1021/acs.jpcc.9b08387


Zezin, A.A., Klimov, D.I., Zezina, E.A., Mkrtchyan, K.V., Feldman, V.I.. Controlled radiation-chemical synthesis of metal polymer nanocomposites in the films of interpolyelectrolyte complexes: Principles, prospects and implications, Rad. Phys. Chem., 2020, 169, 108076. DOI: 10.1016/j.radphyschem.2018.11.030


Sosulin, I.S., Tyurin, D.A., Feldman, V.I.. Carbene-insertion noble gas compounds: FKrCF and FXeCF, Chem. Phys. Lett., 2020, 744, 137211. DOI:10.1016/j.cplett.2020.137211


Ryazantsev, S.V., Zasimov, P.V., Feldman, V.I.. Radiation-induced synthesis of formic acid in the H2O–CO system: A matrix isolation study, Chem. Phys. Lett., 2020, 753, 13750. DOI: 10.1016/j.cplett.2020.137540


Shiryaeva, E.S., Baranova, I.A., Tyurin, D.A., Feldman, V.I.. Reactions of radiation-induced electrons with carbon dioxide in inert cryogenic films: Matrix tuning of the excess electron interactions in solids, Phys. Chem. Chem. Phys., 2020, 22(25),14155. DOI: 10.1039/d0cp01578d


Nesterov, S.V., Zakurdaeva, O.A., Sokolova, N.A., Rychkov, P.V., Feldman, V.I.. Radiation-induced macrocycle cleavage in crown ether complexes with Sr(II) and Y(III) chlorides: A comparative study, Rad. Phys. Chem., 2020, 176, 109023. DOI: 10.1016/j.radphyschem.2020.109023


M.A. Lukianova, E. V. Sanochkina, V. I. Feldman. The Radiation-Induced Transformations of C6H6 Molecules in Solid Noble Gas Matrices: Is Benzene Intrinsically Resistant in Condensed Media?,J. Phys. Chem. A, 2019, 123, 25 5199-5205. DOI: 10.1021/acs.jpca.9b01137


A. D. Volosatova, S. V. Kameneva and V. I. Feldman. Formation and interconversion of CCN and CNC radicals resulting from the radiation-induced decomposition of acetonitrile in solid noble gas matrices Phys. Chem. Chem. Phys., 2019,21, 13014-13021. DOI:10.1039/c8cp07896c


S. V. Ryazantsev, D. A. Tyurin, K. B. Nuzhdin, V. I. Feldman and L. Khriachtchev. The HKrCCH⋯CO2 complex: an ab initio and matrix-isolation study. Phys. Chem. Chem. Phys. 2019, 21, 7, 3656-3661 DOI: 10.1039/C8CP04327B


S. V. Ryazantsev, J. Lundell, V. I. Feldman, L. Khriachtchev. Photochemistry of the H2O/CO System Revisited: The HXeOH···CO Complex in a Xenon Matrix.J. Phys. Chem. A 2018, 122, pp. 159–166. DOI: 10.1021/acs.jpca.7b10293


O. A. Zakurdaeva, S. V. Nesterov, N. A. Sokolova, P. V. Dorovatovskii, Ya. V. Zubavichus, V. N. Khrustalev, A. F. Asachenko, G. A. Chesnokov, M. S. Nechaev, V. I. Feldman. Evidence for Indirect Action of Ionizing Radiation in 18-Crown-6 Complexes with Halogenous Salts of Strontium: Simulation of Radiation-Induced Transformations in Ionic Liquid/Crown Ether Compositions.J. Phys. Chem. B 2018, 122(6), 1992-2000. DOI: 10.1021/acs.jpcb.7b1149


S. V. Ryazantsev, V. I. Feldman, L. Khriachtchev. Conformational Switching of HOCO Radical: Selective Vibrational Excitation and Hydrogen-Atom Tunneling. J. Am. Chem. Soc., 2017, 139, pp. 9551–9557. DOI: 10.1021/jacs.7b02605


S. V. Kameneva, D. A. Tyurin, V. I. Feldman. Characterization of HCN...CO complex and its radiation-induced transformation to HNC...CO in cold media: an experimental and theoretical investigation. Phys. Chem. Chem. Phys., 2017, published online. DOI: 10.1039/C7CP03518G


S. V. Ryazantsev, L. Duarte, V. I. Feldman, L. Khriachtchev. VUV photochemistry of the H2O⋯CO complex in noble-gas matrices: formation of the OH⋯CO complex and the HOCO radical. Phys. Chem. Chem. Phys., 2017, 19, pp. 356-365. DOI: 10.1039/C6CP06954A


S. V. Ryazantsev, R. Tarroni, V. I. Feldman, L. Khriachtchev. Effect of Noncovalent Interactions on Vibronic Transitions: An Experimental and Theoretical Study of the C2H⋅⋅⋅CO2 Complex. ChemPhysChem, 2017, 18, pp. 949-958. DOI: 10.1002/cphc.201601441


S. V. Ryazantsev, D. A. Tyurin, V. I. Feldman. Experimental determination of the absolute infrared absorption intensities of formyl radical HCO. Spectrochim. Acta A Mol. Biomol. Spectrosc., 2017, 187, pp. 39–42. DOI: 10.1016/j.saa.2017.06.018


D. I. Klimov, E. A. Zezina, S. B. Zezin, M. Yang, F. Wang, V. I. Shvedunov, V. I. Feldman, A. A. Zezin. Radiation-induced preparation of bimetallic nanoparticles in the films of interpolyelectrolyte complexes. Radiat. Phys. Chem., 2017, published online. DOI: 10.1016/j.radphyschem.2017.02.034


I. S. Sosulin, E. S. Shiryaeva, V. I. Feldman. Mechanism of the radiation-induced transformations of fluoroform in solid noble gas matrixes. Radiat. Phys. Chem., 2017, 138, pp. 60–66. DOI: 10.1016/j.radphyschem.2017.03.016


O. A. Zakurdaeva, S. V. Nesterov, V. I. Feldman. Stereoisomeric effect in low temperature radiolysis of dicyclohexano-18-crown-6 complexes with BaCl2. Radiat. Phys. Chem., 2017, 130, pp. 379–384. DOI: 10.1016/j.radphyschem.2016.09.024


E. V. Saenko, V. I. Feldman. Radiation-induced transformations of methanol molecules in low-temperature solids: a matrix isolation study. Phys. Chem. Chem. Phys., 2016, 18, pp. 32503-32513. DOI: 10.1039/C6CP06082J


S. V. Kameneva, D. A. Tyurin, K. B. Nuzhdin, V. I. Feldman. Matrix isolation and ab initio study on HCN/CO2 system and its radiation-induced transformations: Spectroscopic evidence for HCN⋯CO2 and trans-HCNH⋯CO2 complexes. J. Chem. Phys., 2016, 145, 214309. DOI: 10.1063/1.4969075


E. S. Shiryaeva, D. A. Tyurin, V. I. Feldman. Mechanisms of the Radiation-Induced Degradation of CFCl3 and CF2Cl2 in Noble-Gas Matrices: an Evidence for "Hot" Ionic Channels in the Solid Phase. J. Phys. Chem. A, 2016, 120, pp. 7847–7858. DOI: 10.1021/acs.jpca.6b07301


V. I. Feldman, S. V. Ryazantsev, E. V. Saenko, S. V. Kameneva, E. S. Shiryaeva. Matrix isolation model studies on the radiation-induced transformations of small molecules of astrochemical and atmospheric interest. Radiat. Phys. Chem., 2016, 124, pp. 7-13. DOI: 10.1016/j.radphyschem.2015.12.005


E. S. Shiryaeva, I. S. Sosulin, E. V. Saenko, V. I. Feldman. Ion-radical intermediates of the radiation-chemical transformations of organic carbonates. Radiat. Phys. Chem., 2016, 124, pp. 19-25. DOI:10.1016/j.radphyschem.2016.01.010


E. V. Saenko, M. A. Lukianova, E. S. Shiryaeva, K. Takahashi, V. I. Feldman. Radiation-induced intermediates in irradiated glassy ionic liquids at low temperature. Radiat. Phys. Chem., 2016, 124, pp. 26-29. DOI: 10.1016/j.radphyschem.2015.11.004


S. V. Kameneva, D. A. Tyurin, V. I. Feldman. Structure and properties of the radiation-induced intermediates produced from HCN in noble gas matrices. Radiat. Phys. Chem., 2016, 124, pp. 30-37. DOI:10.1016/j.radphyschem.2015.12.001


S. V. Ryazantsev, V. I. Feldman. Radiation-induced transformations of matrix-isolated formic acid: evidence for the HCOOH → HOCO + H channel. Phys. Chem. Chem. Phys. 2015, 17, pp. 30648-30658. DOI:10.1039/C5CP05446J


I. S. Sosulin, E. S. Shiryaeva, V. I. Feldman. Radiation-induced radicals in different polymorphic modifications of D-mannitol: Structure, conformations and dosimetric implications. Radiat. Phys. Chem. 2015, 117, pp. 178–183. DOI: j.radphyschem.2015.08.011


O. A. Zakurdaeva, S. V. Nesterov, N. A. Shmakova, N. A. Sokolova, V. I. Feldman. The low temperature radiolysis of cis-syn-cis-dicyclohexano-18-crown-6 complexes with alkaline earth metal nitrates: An evidence for energy transfer to the macrocyclic ligand. Radiat. Phys. Chem. 2015, 115, pp. 183–188. DOI: 10.1016/j.radphyschem.2015.07.004


E. V. Saenko, D. N. Laikov, V. I. Feldman. IR-spectroscopic manifestation of the diacetyl radical anion produced by irradiation of diacetyl in a dimethyl ether matrix at 7 K. Mendeleev Commun. 2015, 25, pp. 267–268. DOI: 10.1016/j.mencom.2015.07.011


A. A. Zezin, V. I. Feldman, S. S. Abramchuk, G. V. Danelyan, V. V. Dyo, F. A. Plamper, A. H. Müller, D.V. Pergushov. Efficient size control of copper nanoparticles generated in irradiated aqueous solutions of star-shaped polyelectrolyte containers. Phys. Chem. Chem. Phys. 2015, 17, pp. 11490 - 11498. DOI: 10.1039/C5CP00269A


S. V. Ryazantsev, V. I. Feldman. Matrix-Isolation Studies on the Radiation-Induced Chemistry in H2O/CO2 Systems: Reactions of Oxygen Atoms and Formation of HOCO Radical. J. Phys. Chem. A. 2015, 119, pp. 2578–2586. DOI: 10.1021/jp509313n


S. V. Kameneva, A. V. Kobzarenko, V. I. Feldman. Kinetics and mechanism of the radiation-chemical synthesis of krypton hydrides in solid krypton matrices. Radiat. Phys. Chem. 2015, 110, pp. 17–23. DOI: 10.1016/j.radphyschem.2015.01.007


V.I. Feldman. EPR and IR Spectroscopy of Free Radicals and Radical Ions Produced by Radiation in Solid Systems. / In: Applications EPR in Radiation Research, edited by A. Lund and M. Shiotani. Springer, 2014, pp. 151-188. DOI: 10.1007/978-3-319-09216-4_5


V. I. Feldman. Structure and Reactions of Aliphatic Bridged Bifunctional Radical Ions: Exploring Fine-Tuning in Radiation Chemistry. Isr. J. Chem. 2014, 54, pp. 284–291. DOI: 10.1002/ijch.201300122


A. Bakar, O. Güven, A. A. Zezin, V. I. Feldman. Controlling the size and distribution of copper nanoparticles in double and triple polymer metal complexes by X-ray irradiation. Rad. Phys. Chem. 2014, 94, pp. 62-65. DOI: 10.1016/j.radphyschem.2013.07.006


V. I. Feldman. Organic radical cations and neutral radicals produced by radiation in low-temperature matrices/ In: EPR of Free Radicals in Solids II. Trends in Applications and Methods, edited by A. Lund and M. Shiotani (2nd Edition)/ Springer, 2013, pp. 25—70. DOI: 10.1007/978-94-007-4887-3


S. V. Ryazantsev, A. V. Kobzarenko, V. I. Feldman. Photolabile xenon hydrides: A case study of HXeSH and HXeH. J. Chem. Phys. 2013, 139, 124315. DOI: 10.1063/1.4822102


E. V. Saenko, K. Takahashi, V. I. Feldman. EPR Evidence for a Physically Trapped Excess Electron in a Glassy Ionic Liquid. J. Phys. Chem. Lett. 2013, 4, pp. 2896–2899. DOI: 10.1021/jz401292e


O. A. Zakurdaeva, S. V. Nesterov, V. I. Feldman. Localization of radiation damages in X-rays irradiated cis-syn-cis-dicyclohexano-18-crown-6 and its inclusion complex with BaCl2. Rad. Phys. Chem. 2013, 87, pp. 40-45. DOI: 10.1016/j.radphyschem.2013.02.006


V. I. Feldman, A. A. Zezin, S. S. Abramchuk, E. A. Zezina. X-ray Induced Formation of Metal Nanoparticles from Interpolyelectrolyte Complexes with Copper and Silver Ions: The Radiation-Chemical Contrast. J. Phys. Chem. C 2013, 117, pp. 7286–7293. DOI: 10.1021/jp3090765


E. V. Saenko, D. N. Laikov, V. I. Feldman. Reactions of excess electrons with "bridged" amidoesters in low-temperature matrices. Rad. Phys. Chem. 2013, 85, pp. 147-151. DOI: 10.1016/j.radphyschem.2012.12.003


O. A. Zakurdaeva, S. V. Nesterov, V. I. Feldman. Radical intermediates of low temperature radiolysis of di-tert-butylcyclohexano-18-crown-6/1-octanol extractant. Radiochimica Acta 2013, 101, pp. 51-56. DOI: 10.1524/ract.2013.1993


E. S. Shiryaeva, D. A. Tyurin, V. I. Feldman. The structure and photochemical transformation of cyclopropylacetylene radical cation as revealed by matrix EPR and quantum chemical study. Chem. Phys. Lett. 2012, 536, pp. 68–71. DOI: 10.1016/j.cplett.2012.03.096


V. I. Feldman, A. V. Kobzarenko, A. Y. Orlov, F. F. Sukhov. The radiation-induced chemistry in solid xenon matrices. Low Temp. Phys. 2012, 38, pp. 961–969. DOI: 10.1063/1.4743498


A. V. Kobzarenko, F. F. Sukhov, A. Yu. Orlov, G. V. Kovalev, I. A. Baranova, V. I. Feldman. Effect of molecular structure on fragmentation of isolated organic molecules in solid rare gas matrices. Radiat. Phys. Chem. 2012, 81, pp. 1434–1439. DOI: 10.1016/j.radphyschem.2012.01.004


I. D. Sorokin, L. Melnikova, V. I. Pergushov, D. A. Tyurin, V. I. Feldman, M. Ya. Melnikov. Phototransformations of methylsubstituted oxiranes' radical cations. High Energy Chem. 2012, 46, pp. 228–239. DOI: 10.1134/S0018143912030125


E.V. Saenko, D.N. Laikov, I.A. Baranova, V.I. Feldman. Stabilization of radical anions with weakly bound electron in condensed media: a case study of diacetonyl radical anion. J. Chem. Phys. 2011, 135, 10103.


O.A. Zakurdaeva, S.V. Nesterov, V.I. Feldman. Radiolysis of aqueous solutions of poly(viny alcohol) at 77 K. Radiat. Phys. Chem., 2010, 79, P. 876 – 879.


A.A. Zezin, V.B. Rogacheva, V.I. Feldman, P. Afanasiev, A.A. Zezin. From triple interpolyelectrolyte-metal complexes to polymer-metal nanocomposites. Adv. Colloid. Interface Sci. 2010, 158, pp. 84 – 93.


O.A. Zakurdaeva, S.V. Nesterov, V.I. Feldman. An ESR study of radiation-chemical transformation of 4,4',(5')-di-(tert-butylcyclohexano)-18-crown-6 and its solution in 1-octanol at 77 K. Journal of Radioanalytical and Nuclear Chemistry, 2010, 284, P. 641 – 545.


A. Domanskaya, A.V. Kobzarenko, E. Tsivion, L. Khriachtchev, V.I. Feldman, R.B. Gerber, M. Räsänen. Matrix-isolation and ab initio study of HXeCCH complexed with acetylene. Chem. Phys. Lett., 2009, 481, pp. 83-87.


V.I. Feldman, A.V. Kobzarenko, I.A. Baranova, A.V. Danchenko, F.F. Sukhov, E. Tsivion, R.B. Gerber. Direct visualization of the H—Xe bond in xenon hydrides: xenon isotopic shift in the IR spectra. J. Chem. Phys., 2009, 131, art. 151101.


O.A. Zakurdaeva, S.V. Nesterov, N.A. Shmakova, V.I. Feldman. Radiolysis of aqueous DCH18C6 solutions at 77 K. Journal of Radioanalytical and Nuclear Chemistry, 2009, 279, no. 2, pp. 647 – 653.


V. I. Feldman, F. F. Sukhov, A. Yu. Orlov. Hydrogen atoms in solid xenon: trapping site structure, distribution and stability as revealed by EPR studies in monoisotopic and isotopically enriched xenon matrices. J. Chem. Phys. 2008, 128, art. 214511


K. B. Nuzhdin, V. I. Feldman, A. V. Kobzarenko. Diketone Radical Cations: Ketonic and Enolic Forms As Revealed by Matrix EPR Studies and DFT Calculations. J. Phys. Chem. A. 2007, 11, pp. 3294 – 3301. DOI: 10.1021/jp0685380


V. I. Feldman, F. F. Sukhov, E. A. Logacheva, A. Yu. Orlov, I. V. Tyulpina, D. A. Tyurin. Reactions of H atoms produced by electron irradiation of benzene in solid xenon. Chem. Phys. Lett., 2007, 437, pp. 207 – 211. DOI: 10.1016/j.cplett.2007.02.039


A. A. Zezin, V. I. Feldman, N. A. Shmakova, S. P. Valueva, V. K. Ivanchenko, N.I. Nikanorova. The peculiarities of formation of the metal nanoparticles in irradiated polymer metal complexes. Nucl. Instr. & Meth. Phys. Res. B. 2007, 265, pp. 334 – 338. DOI: 10.1016/j.nimb.2007.08.068
Recent lectures and invited talks (2011 - 2016):
Model studies on the radiation-induced transformations of astrochemically relevant molecules and intermolecular complexes: extremely hot chemistry at extremely low temperatures.
[30th Miller Conference on Radiation Chemistry, Castellammare del Golfo (Sicily), Italy, 7-11 October 2017]


Basic mechanisms of the radiation damage in polymers at cryogenic temperatures: Models studies and implications.
[12th International Symposium "Ionizing Radiation and Polymers" (IRaP 2016). Peninsula of Giens, France, 25–30 September 2016]


Matrix isolation studies on the radiation-induced transforamtions of small molecules of astrochemical interest and their complexes.
[3rd International Conference "Chemistry and Physics at Low Temperatures" (CPLT 2016). Biarritz, France, 3–8 July 2016]


The radiation-induced transformations of small molecules of astrochemical and atmospheric interest.
[13th Tihany Symposium on Radiation Chemistry, Balatonalmadi, Hungary, 29 August - 3 September 2015]


Reactions of excess electrons in condensed media: Matrix control of the stabilization of radical anions.
[1st International Conference "Chemistry and Physics at Low Temperatures" (CPLT 2013). Jyväskylä, Finland, 14–19 July 2013]


Local effects in the X-ray induced processes in films and nanocomposites: The radiation-chemical contrast.
[10th International Symposium "Ionizing Radiation and Polymers" (IRaP 2012). Cracow, Poland, 14–19 October 2012]